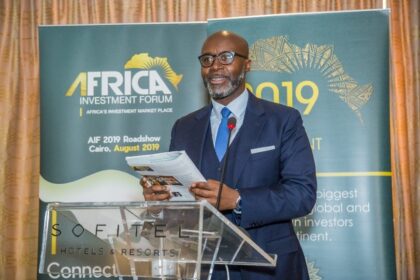 Cairo, 5 August 2019: –
Africa offers many investment opportunities that are yet to be exploited, Ibrahim Sagna, Director of the Advisory and Capital Markets Department at the African Export-Import Bank (Afreximbank), has said.
Addressing the opening of a roadshow held in Cairo on Monday to raise awareness about the second Africa Investment Forum (AIF), Mr. Sagna said that available funds for such opportunities were not being fully tapped due to certain bottlenecks despite the significant trade and investment cooperation which Africa had witnessed over the past two years.
The AIF was established specifically to help overcome those bottlenecks which were preventing greater uptake of the opportunities, he continued.
Afreximbank's role was to help address those challenges and to create investment opportunities in Africa, added Mr. Sagna. "Afreximbank believes that Africa is the place for investors to come and seize the numerous opportunities provided by the huge population, growing economies, and fast-paced dynamic setting."
Also speaking, Dr. Sahar Nasr, Minister of Investment and International Cooperation of Egypt, said that Egypt had presented investment opportunities related to the renewable energy, infrastructure and transport sectors at the AIF in line with its development plan.
The roadshow was organised by Afreximbank and the African Development Bank in preparation for the second AIF which will take place in Johannesburg, South Africa, from 11 to 13 November 2019.
The AIF is an investment market place through which Afreximbank and other partners can structure deals, screen and enhance projects, attract co-investors, and facilitate transactions to close Africa's investment gaps. It is expected to reduce intermediation costs, improve the quality of project information and documentation, and increase active and productive engagements between African governments and the private sector.
The first AIF took place in Johannesburg in 2018 and attracted more than 2,000 participants, raising $38.8 billion dollars in less than 72 hours.