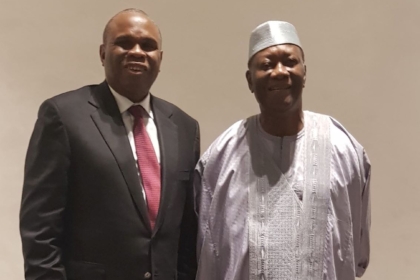 The recent Russia-Africa Summit which took place in Sochi, Russian Federation, could lead to the emergence of Russia as another source of investment goods for Africa, Prof. Benedict Oramah, President of Afreximbank, has said
Speaking in Sochi when he was received in audience by President Allasane Ouattara of Cote d'Ivoire on the sidelines of the Summit, Prof. Oramah said that the event had given Russian businesses the energy to invest more in Africa.
He said that Afreximbank was available to help harness the opportunities that could arise as a result of the Summit, noting that the Bank had worked with the Russian authorities to develop the programme for Russia-Africa Economic Forum held in conjunction with the Summit.
"We thought it was important to expand Africa's partnerships," Prof. Oramah explained.
He briefed President Ouattara on the activities of the Bank, including the various initiatives it was implementing to support the implementation of the African Continental Free Trade Area (AfCFTA). Those included the Pan-African Payments and Settlement System, which had been adopted by the African Union and was being piloted in the West Africa Monetary Zone; the Intra-state Transit Guarantee Scheme, which would facilitate customs clearance of goods being transported across borders; and the AfCFTA Adjustment Facility, which would be available to assist countries negatively impacted by the implementation of the AfCFTA.
President Ouattara commended Afreximbank for its work and for the support it was providing to Cote d'Ivoire.
He said that Cote d'Ivoire was keen to develop its cocoa and cashew nuts sectors as major areas of interest in its economic programme and appealed to the Bank for support.
Afreximbank co-organised the Russia-Africa Economic Forum which was held in conjunction with the Russia Africa Summit. The Bank was also a key partner in the organisation of the Russia-Africa Summit.
Joining Prof. Oramah from Afreximbank were Kanayo Awani, Managing Director, Intra-African Trade Initiative; Rene Awambeng, Director, Client Relations; Obi Emekekwue, Director, Communications and Events Management; and Ekene Uzor, Special Assistant to the President on Banking Special Initiatives.